Excursion de un dia todo incluido.
Visitas y catas de champagne.
Disponible de Marzo 1 a Diciembre 24.
TAITTINGER / MOET & CHANDON
Recogida a las 10.00 (Patio de estacion de tren de Reims - Lunes a Domingo).


Tour y visita en Taittinger.*
Situados en las mejores partes de la región, los viñedos de Taittinger se extienden sobre 288 hectáreas. Con un 50% de Pinot Noir, 15% de Pinot Meunier y 35% de Chardonnay, la casa fundada en 1932 elabora vinos muy marcados por el Chardonnay.

Reims Sightseeing con las Grandes Maisons de Champagne, la Catedral...

Almuerzo libre en Reims.
Hautvillers sightseeing.
En el camino para Epernay, vamos a descubrir el Valle de la Marne a traves de los vinedos. encontraremos a Dom Perignon que finalizo el proceso de elaboracion del Champagne. Dom Perigon esta enterrado en la iglesia de la abadia de Hautvillers.

Sightseeing de Avenue de Champagne en Epernay
Situado en el corazon de la ciudad, Epernay esta considerado a través del mundo como la "Capital del Champagne". La calle principal de Epernay enseña palacetes opulentos que albergan las Maisons de Champagne mas prestigiosas: Moët & Chandon, Perrier-Jouet, Mercier, etc. Sin hablar de los 100km de galerias subteraneas

Visita y cata en Moët & Chandon.*
Fundada en 1743 por Claude Möet, 40 años después es la primera marca internacional. Su historia está relacionada con personajes históricos famosos como la Marquise de Pompadour o Napoleon 1. Es también el Champagne de los acontecimientos importantes: coronación de Eduardo VII, el festival de Cannes, el aniversario de la estatua de la libertad etc. Es probablemente el champagne más famoso en el mundo ahora.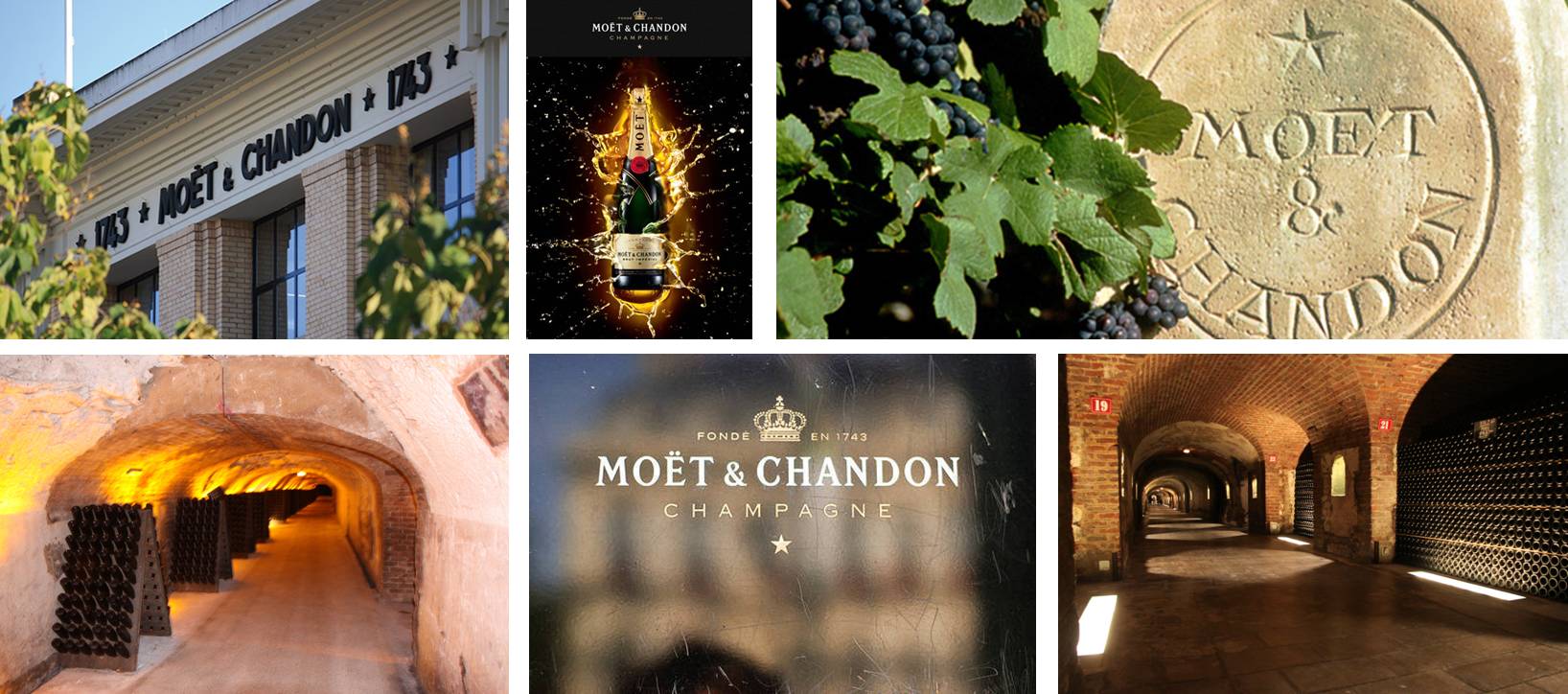 Regreso a las 17.00 (Patio de la estacion de tren de Reims).
* Segun las disponibilidades , Taittinger y Moët et Chandon puede ser cambiado por otras bodegas.
Qué está incluido ?

Transporte en un microbus comfortable y climatizado para un dia, guia bilingue, visita guiada en Moët & Chandon, Visita por Reims, Parada fotográfica a la Abadía de Dom Perignon en Hautvillers. 8 pasajeros maximum por vehiculo.
Qué no está incluido ?
Gastos personales, extra, otras bebidas,otras comidas, recogida al hotel (15.00 € por persona) (hoteles situados en la region de Reims).
| | |
| --- | --- |
| Duration of the tour | 7 hours |
| Type of tour | Small group |
| Minivan | Semi private or private tour. The transportation of this excursion is operated in a comfortable full options minibus. Maximum 8 passengers per minibus. |
| Children | Reduced price for children under 12 years old. Free of charge for infants under 3 years old. |
| Guide | Semi private or private tour. This tour is escorted by an official Guide Interpreter. The guide gives you a tour of the monuments and presents you the history and architecture of the visited sites and towns. |
| Destination Code | FR RHE | Reims |
Experto en tours personalizados por toda Francia desde 2003 !
Le gusta este tour pero no quiere compartir el minibús con otros huéspedes? Tenemos el ajuste perfecto para usted! Disfrute de este tour en una base privada!
La exclusividad de un guía experto guía de habla hispana en la región.
Transporte privado en un minibús Mercedes confortable con todas las opciones.
Recogida y entrega complementaria en su hotel.
Nuestros guías no le darán una conferencia, sino que le llevará como un amigo y de una manera relajada, revelando un montón de anécdotas!
La garantía de tener un tour totalmente adaptado a su perfil, sus preguntas y sus preferencias!
Opiniones
Por
martin O.
el 20 Ago. 2017
(

Reims & Epernay, The Bubbles Day, cata de 2 champagnes, Moet & Chandon / Taittinger, de Lunes a Domingo

)
:
Laura was knowledgeable and friendly . A great and interesting trip
As above a really good trip with a great guide
Por
paul R.
el 19 Ago. 2017
(

Reims & Epernay, The Bubbles Day, cata de 2 champagnes, Moet & Chandon / Taittinger, de Lunes a Domingo

)
:
Laura very informative tour guide, champange houses great
Laura was very friendly & informative, we had great fun with our group. Champange houses beautiful & very interesting, tastings were wonderful. Taitinger was our favourite, the guide there was extremely polished with his delivery. Although it was raining it didn't spoil the day or dampen our spirits.
Por
Peter A.
el 20 Jul. 2017
(

Reims & Epernay, The Bubbles Day, cata de 2 champagnes, Moet & Chandon / Taittinger, de Lunes a Domingo

)
:
Excellent day and very informative
Had a great day. Our guide Rafael was excellent and very informative and helpful!
Reims & Epernay, The Bubbles Day, cata de 2 champagnes, Moet & Chandon / Taittinger, de Lunes a Domingo
Customers who bought this product also bought
Calificaciones y evaluaciones de los clientes